You are here:
Home
»
Portfolio
Welcome to our Portfolio section, highlighting a cross section of  the work that we  performed for a variety of our clients.  Every client experience was a unique one for us, requiring a different skill set and approach.  We worked with each client to first understand their needs, and then designed a solution that consistently exceeded their expectations.  For more information about the types of services that we historically provided, please see our services page.
Massachusetts Forest Alliance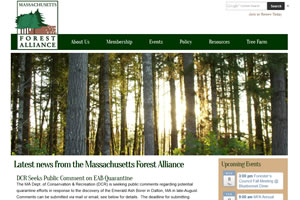 Website: http://www.massforestalliance.org/
Type of work:
Graphic Design
Content Management System Setup
Ongoing Site Maintenance
Calendar Integration
Google Custom Search
About: The Massachusetts Forest Alliance approached CRWC when they were in the process of combining multiple already existing organizations.  The MFA wanted a consistent image on the web but it was also important to create a site that would be easy to maintain, simple to post events, and ultimately, the MFA wanted to create a place that would act as a central hub for forestry information pertaining to Massachusetts.
New England Trail Riders Association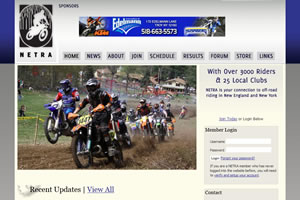 Website: www.netra.org
Type of work:
Custom Membership Database (servicing over 3,500 Members)
Graphic Design
Shopping cart/Store
Ruby On Rails Programming
Membership Login
Forum
Custom Content Management System
About: Without a website NETRA could flounder. Before CRWC became involved the site served to simply to get basic information out to its members. It was cumbersome to navigate and maintain. However, after CRWC, members and those interested in the organization could easily get information regarding the next race, results and news.
The site forced the team at CRWC to think outside the box. This site contains hundreds of pages including a forum. With the rigorous racing schedule, race details and results and the need to constantly change information on the site, we had to create the new site (in beta testing) in coordination with the live site. Everyone was really looking for a way to take the site to the next level.
We put together a graphically appealing site that everyone could navigate. We produced web applications that would enable sponsors to advertise on the site. Code was written so that upcoming events would be kept current without the assistance of a human. CRWC also worked to redesign many aspects of the site which proved to take the site to the next level. Club links, news, a store, and rule books were added. And over the past year, on-line membership capabilities have been added.
Cornell Class of 1973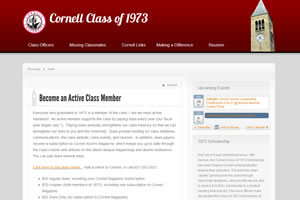 Website: http://cornell73.com/
Type of work:
Graphic Design
Content Management System Setup
Calendar Integration
Ongoing Site Maintenance
About: Since the beginning of CRWC, Cornell Alumni Classes worked with the company to establish themselves on the web. With the ever-present challenge of giving each class a unique look under Cornell's guidelines.  CRWC  performed a variety of services for Cornell ranging from working with the university to locate missing classmates to revolutionizing the way classes were able to interact with their members.
Surf City Family Fun Center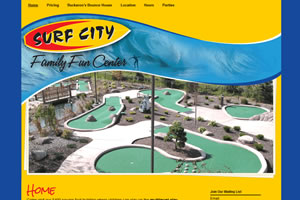 Website: www.surfcityfamilyfuncenter.com/
Type of work:
Graphic Design
Content Management System Integration
Search Engine Optimization
About: Surf City Family Fun Center was already operating under another name when they approached CRWC.  They were looking to rebuild their site and their brand around the surf theme.  The business was also interested in search engine optimizing their site to drive more traffic to the site and ultimately more customers into their business.  CRWC worked with the client to assemble the needed photography for the site and organize the content for search engines and customers.
Crossman Engineering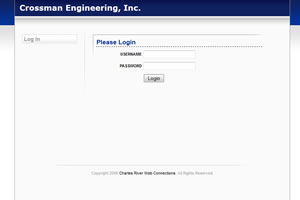 Website: www.crossmaneng.com
Type of work:
Graphic Design
File Management System
Ongoing Site Maintenance
About: This site can be described simply with the word "evolution." Originally they were just looking for an informational site to get rid of the "Under Construction" page that had plagued them for a long time. With the newly designed site their business started to expand and with that expansion their needs of their website also grew.
What started out as a basic site where just information was presented transformed into a place where those working for Crossman as well as their clients can login into a File Management System that CRWC designed and move around large architecture files.
This feature is used in many aspects of their business because it is fully customizable and gives them the opportunity to do business at a much faster rate and save money. Before the implementation of this system they were forced to email these large files which did not always go through or they were forced to spend a great amount of money to overnight files around the country. Crossman can make changes to their engineering designs and have them immediately accessible/available to multiple users.
Outdoor Power Online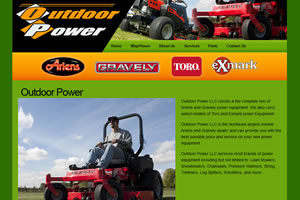 Website: www.outdoorpoweronline.com
Type of work:
Graphic Design
Content Management System Integration
Search Engine Optimization
About: Outdoor Power is a traditional brick and mortar company that wanted to better utilize the web.  They made the decision to move away from their existing website service provider when they were dissatisfied with the service and features offered.  CRWC created a website that was easy for the managers to keep up to date, and it is also versatile enough that in the changing from summer to winter, the site can be re-themed to reflect their snow blower sales.
HR Alliance Group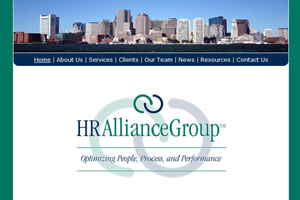 Website: www.hralliancegroup.com
Type of Work:
About: One of the biggest hurdles that a company faces is marketing. You know there are a variety of clients out there that could utilize your services, however it is the getting your name out there that presents the greatest challenge.
The field of Human Resources was something new to CRWC, so research was done to acquaint us with the competitions approach to web presence and marketing. We analyzed the competing sites and came up with an idea of what would set this site apart, showcasing exactly what HR-Alliance group does.
Within the site there is a variety of high end web design features being utilized seamlessly. For instance, on the home page there is a little bit of Flash in order to draw attention to the name of the company. The site has a variety of pictures that were carefully chosen and modified to give a sense of continuity between pages.